Sarah Peryouar, membre du Cercle des survivants, 2019-2020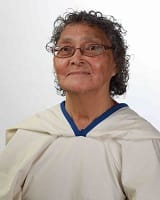 Le Centre national pour la vérité et la réconciliation (CNVR) offre ses plus sincères condoléances à la famille, aux proches et à la communauté de Sarah Peryouar.
C'est avec le cœur gros que nous souhaitons bon voyage à Sarah. Nous trouvons du réconfort à l'idée qu'elle a désormais rejoint ses ancêtres.
Lorsque Sarah s'est jointe au Cercle des survivants à l'été 2019, elle y a joué un rôle essentiel. Sarah a vécu à Baker Lake, dans la région de Kivalliq au Nunavut, et était une survivante des pensionnats indiens de Baker Lake, au Nunavut et de Churchill, au Manitoba.
Elle s'est rendue dans le sud du pays dans le but d'aider d'autres survivantes et survivants dans leurs parcours de guérison et pour incarner la voix des Inuits. Nous avons ressenti sa passion et, bien qu'elle n'ait pas été toujours à l'aise, elle a réussi à faire sentir sa présence et à faire connaître sa culture.
Elle avait parlé à sa famille des importantes discussions sur la guérison et la réconciliation et de l'esprit de camaraderie dans les échanges avec les autres survivantes et survivants.
Elle croyait au pouvoir de guérison conféré par le partage des histoires personnelles. Ella s'est adressée à la Commission de vérité et réconciliation du Canada pour se raconter et amorcer son processus de guérison. Elle croyait pouvoir être une agente de liaison avec les survivantes et les survivants du Nord et a aidé à leur offrir du soutien pour les accompagner durant leurs parcours vers la guérison.
Elle nous manquera profondément. Sa discrétion n'a jamais été perçue comme une faiblesse, mais comme une capacité à dire la vérité.
Sarah se passionnait pour l'enseignement. Elle a travaillé comme enseignante à Baker Lake la majeure partie de sa vie, après avoir obtenu un brevet d'enseignement en 1993, ayant étudié à l'Université McGill et au Collège de l'Arctique du Nunavut. Elle croyait que la langue et la culture inuktitutes pouvaient être gardées en vie.
Elle a fait partie de plusieurs comités afin de soutenir sa communauté et les autres survivantes et survivants. Elle a été membre de plusieurs conseils d'administration, notamment au sein des organisations suivantes : Abluqta Society, Nunavut Senior Society, Sanavik Co-operative Limited, District Education Authority, Tikihaijit Committee, Baker Lake Housing Association, et a présidé le comité des aînés de Qilautimiut.
Nous trouvons du réconfort dans nos croyances traditionnelles, car nous croyons que le Créateur a amené Sarah pour apaiser ses souffrances. Bon voyage chère Sarah.
NCTR's spirit name – bezhig miigwan, meaning "one feather".
Bezhig miigwan calls upon us to see each Survivor coming to the NCTR as a single eagle feather and to show those Survivors the same respect and attention an eagle feather deserves. It also teaches we are all in this together — we are all one, connected, and it is vital to work together to achieve reconciliation.