Remembering the Children: A Community and Academic Research Gathering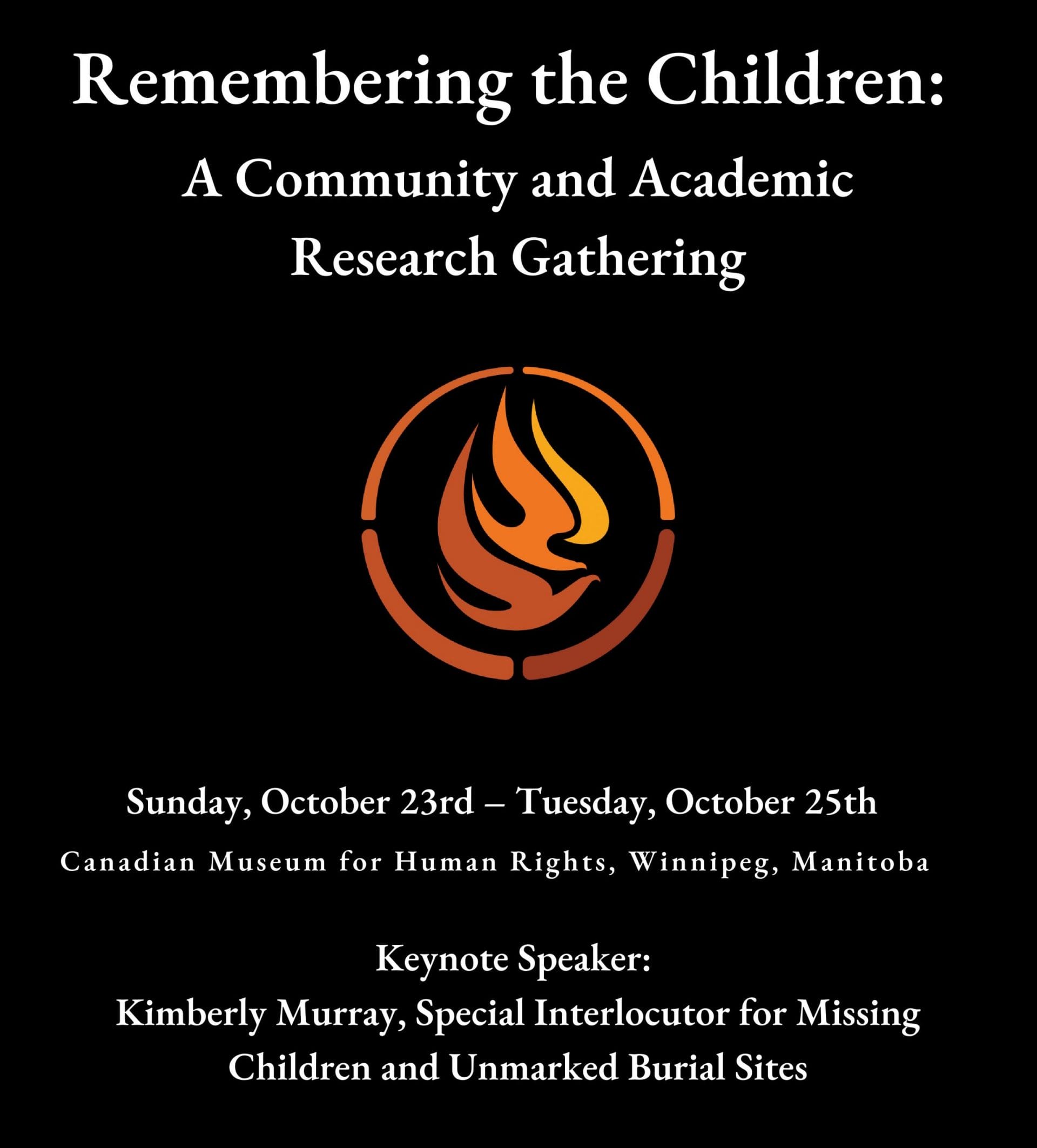 In-person registration is now closed. Virtual participation is available by registering here
The National Centre for Truth and Reconciliation's Research and Academic department will be hosting a 3-day gathering this October which will bring together community and academic researchers to share their experiences, challenges and successes of research and work related to missing children and unmarked burials. The gathering will be embedded in ceremony, include formal opportunities for presenters to share their research and experiences and create space for attendees to engage in dialogue. It will also provide an opportunity to develop key discussion papers that will assist in moving academic, policy and research agendas forward.
Kimberly Murray, Special Interlocutor for Missing Children and Unmarked Burial Sites, is the event's keynote.
More details will be provided on this page in the coming weeks regarding the agenda, travel information, and other important information related to the gathering.
Program (coming soon)
Registration
If you have registered as either "General Admission", "Student", "Survivor and/or Elder", or "Community Representative", this means you have registered to attend in-person. If you made an error and you plan to attend virtually, kindly revise your registration to "Virtual Admission".
PowerPoint Presentations
Discussion Papers
Virtual Registration
If you would like to attend the gathering virtually, please register as a virtual participant here: https://www.eventbrite.ca/e/remembering-the-children-registration-412994747407.
After registering, you will receive a confirmation email with the webinar link. The sessions available for virtual participants are live on:
October 23 from 6:00pm-7:30pm CDT (local Winnipeg time)
October 24 from 8:00am-5:30pm CDT (local Winnipeg time)
October 25 from 8:00am-12:00pm CDT (local Winnipeg time)
The gathering will be held at the Canadian Museum for Human Rights (85 Israel Asper Way, Winnipeg, MB R3C 0L5), located in Downtown Winnipeg adjacent to The Forks. There are two parking lots across the street from the venue with plenty of spots for a daily fee. Multiple taxi services, Uber and Tapp Car operate in Winnipeg.
A block of rooms is being held for our guests at the Humphrey Inn & Suites, Downtown Winnipeg, until Friday, October 14th. To book with our preferred rate of $149.00/night you must call to make a reservation and mention that you are with the group "University of Manitoba".
Humphry Inn & Suites, Downtown Winnipeg
260 Main Street, Winnipeg Manitoba, R3C 1A9
P: (204) 942.4222 | TF: (877).HUMPHRY(486.7479) | F: (204)480.4612
If you have any dietary restrictions, please email Jessica.Tapatai@umanitoba.ca as soon as possible, and no later than Tuesday, October 18th.
Community members who are interested in attending the gathering, but require financial support to do so, can submit a request for financial assistance as we have limited funds to support community participation. Complete the Financial Support Request Form and submit it to Jessica Tapatai via email (Jessica.Tapatai@umanitoba.ca) by October 12th.
Please note – Submitting a request does not guarantee funding. Funding will be allocated in such a way to promote a wide range of community participation across Canada including First Nations, Métis, and Inuit community members. Priority will be given to those who are working on missing children and unmarked burial initiatives, Survivors, Elders, and community representatives.
The deadline for Community Financial Support Requests has passed and the call is now closed.
If you are a Survivor and need emotional support, a national crisis line is available 24 hours a day, seven days a week:
Residential School Survivor Support Line: 1-866-925-4419
NCTR's spirit name – bezhig miigwan, meaning "one feather".
Bezhig miigwan calls upon us to see each Survivor coming to the NCTR as a single eagle feather and to show those Survivors the same respect and attention an eagle feather deserves. It also teaches we are all in this together — we are all one, connected, and it is vital to work together to achieve reconciliation.