Reconciliation and the UN Declaration on the Rights of Indigenous Peoples
Date: October 26,2021 Time: 1:00PM CT-2:30PM CT
Moderator: Brenda Gunn
Panelists: Dr. Andrew Erueti, Sashia Leung, and Jesse McCormick
Over the course of the dialogue, Brenda Gunn, the NCTR's newly appointed Research Director, will facilitate a discussion on the UN Declaration and how it provides a framework for reconciliation in Canada as well as what we need to do to start using the Declaration to achieve reconciliation. Panelists will also share what the audience needs to understand about the Declaration and how it influences their work.
RSVP: https://fb.me/e/2xUdrIBpn
NCTR Dialogues – Perspectives on Truth and Reconciliation
The National Centre for Truth and Reconciliation (NCTR) is holding a live video series on Facebook with Survivors, Elders, researchers and Indigenous allies on various truth and reconciliation topics.
To tune into the live event, visit @nctr.ca on Facebook.
Each live event is one hour, followed by a question-and-answer period.
The full videos will also be available following the conversation as an educational resource on the NCTR YouTube page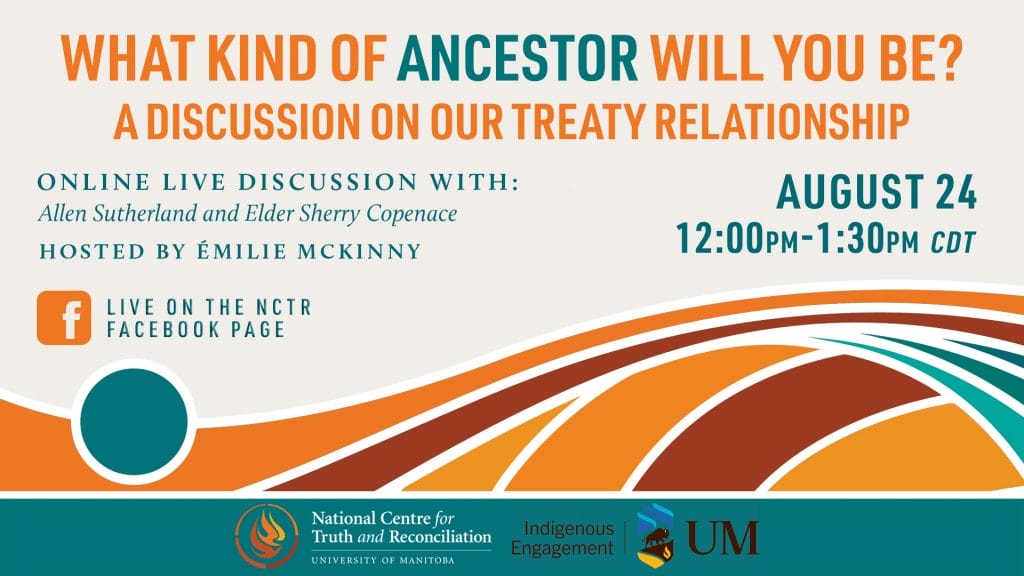 Mino- Bimaadiziwin- Living the Good Life in Niizh Manidoowag (2Spirit) Communities
Date: June 29, 2021, Time: 12:00PM CST – 1:30PMCST
Host: Candy Palmater
Guests: Denise Cole, Dr. Fyre Jean Graveline, and Brielle Beardy-Linklater
Looking at the Spiritual, mental, physical, and emotional health of 2Spirit communities during the Covid-19 pandemic and reflecting on challenges that have emerged. A discussion on community impacts, ways to support and sources of strength.
RSVP: https://fb.me/e/1wiWd0mbg
Why NCTR Dialogues?
Like most organizations, the NCTR is closed to the public due to the COVID-19 pandemic. However, working remotely, the NCTR is still committed to working toward and supporting dialogue for Reconciliation in Canada.
This pandemic has challenged many, including Indigenous people, to re-think how we connect to others. We are seeing Indigenous-specific posts on social media relating to how spiritual and ceremonial protocols are adapting to this period of physical distancing. Online initiatives like the social distancing powwows allow for us to connect culturally and spiritually in this temporary normal we find ourselves in. The NCTR would like to contribute to the online discourse by providing the public and educators with important discussions on truth and Reconciliation with Survivors, a discussion very few may be privy to in a pre- or post-pandemic world.
Past NCTR Dialogues – Available on the NCTR Youtube page here
Tuesday, June 23, 2020 – Two-Spirit Reconciliation
12:00 p.m. -1:30 p.m.
Host: Candy Palmater
Panel: inter-generational Survivor Dr. Albert McLeod, inter-generational Survivor Harlan Pruden
This discussion will look at the term Two-Spirit, where it came from and what meaning is embodied within. How does (re)claiming Indigenous notions of gender roles and gender expression create a framework for Redress and Reconciliation?
Dr. Albert Mcleod
Over the past 35 years, well-respected knowledge keeper Albert McLeod has worked tirelessly for the rights of Two-Spirit (2S), lesbian, gay, bisexual, trans, and queer (2LGBTQ+) people in the local community and across the continent.
McLeod is a status Indian with ancestry from Nisichawayasihk Cree Nation and the Métis community of Norway House. Known as a progressive thinker and visionary, McLeod has led the way for rights and recognition of 2S people in North America since 1986. Recognizing the importance of Elder Myra Laramee's vision of Two-Spirit in 1990, McLeod has worked with LGBTQ Indigenous people across the continent to organize under the name "Two Spirit" to remember the honoured roles of non-binary gender people in pre-contact First Nations, and the important spiritual role they played within their communities. Since then, the movement has grown to involve organizations throughout North America. It has also made an impact on academia that includes research and scholarly books on various aspects of Two-Spirit history, philosophy, and sociology.
Harlan Pruden
Harlan Pruden (First Nation Cree/nēhiyaw) works with and for the Two-Spirit community locally, nationally and internationally. Currently, Harlan is a Ph.D. student at the University of British Columbia and is an Educator at the British Columbia Center for Disease Control's Chee Mamuk, an Aboriginal health program. Harlan is also the Managing Editor of the TwoSpiritJournal.com, an interactive multi-platform Two-Spirit media/news site. Before moving to Vancouver from New York City, Harlan was a co-founder and former Director of the NorthEast Two Spirit Society and the principal Two-Spirit consultant to USA's Substance Abuse and Mental Health Services Administration's Tribal Training and Technical Assistance Center. In August 2014, Harlan was appointed to the United States' Presidential Advisory Council on HIV/AIDS where he works to provide advice, information, and recommendations to the Secretary of Health & Human Services and the White House, and in the spring of 2013, Harlan was appointed to be an American representative to the International Indigenous Peoples Working Group on HIV/AIDS. Closer to home, Harlan is a board member of Qmunity, the home for Vancouver's LGBT, Queer and Two-Spirit community.
Candy Palmater
First nations standup-comedian and LGBTQ activist. Host of her national television comedy show 'The Candy Show', and participates in the national radio show 'DNTQ' (Definitely Not The Opera). Produced her first film, 'Building Legends: The Mi'Kmaq Canoe Project' (2011). Recipient of a Bonham Centre Award from the Mark S. Bonham Centre for Sexual Diversity Studies at the University of Toronto (2017).
Tuesday, July 14, 2020 – Nothing For Us Without Us
12:00 p.m. – 1:30 p.m.
Host: Kevin Lamoureaux
Panel: Phyllis Googoo, Dr. Barney Williams and Levinia Brown
The second in the series – Nothing For Us Without Us – is a discussion with Survivors on the importance of Residential School Survivors in the on-going framework for Reconciliation. Some questions that will be covered:
Why are Survivors voices essential in the current conversations around implementing the Calls to Action?
Why Survivors advising the Truth and Reconciliation Commission's process was important to its success?
How do we engage and work with Survivors, Elders and Knowledge Keepers respectfully and appropriately?
Phyllis Googoo
Phyllis Googoo is a member of the Waycobah First Nation. She and her husband Bernie are the proud parents of three children, nine grandchildren and two great-grandchildren. As a Mi'kmaw speaker and life-long advocate of the Mi'kmaw language, Phyllis raised her children to be fluent in Mi'kmaq. Phyllis has also always loved teaching. She is a graduate of the Nova Scotia Teachers College and St. Francis Xavier University, and currently works and teaches at the Waycobah First Nation School. Phyllis is an Assembly of First Nation Regional Elder, and a member of the We'koqma'q Elders Council, the Nova Scotia Native Women's Association, and the women's drum group We'koqma'qewiskwa'q. In 2008, she received the Grand Chief Donald Marshall Sr. Elder Achievement Award recognizing her lifelong contribution to the Mi'kmaw community. She joined the NCTR Survivor Circle in 2019.
Dr. Barney Williams
Barney Williams is Nuu-chah-nulth and a member of the Tla-o-qui-aht First Nations in Meares Island, B.C. He is an Elder and residential school survivor, a social worker and clinical counsellor, and an elected councillor of the Tla-o-qui-aht First Nation. From 2008 to 2015, he served on the All Parties Committee for the Truth and Reconciliation Commission of Canada and as an Elder Advisor provided cultural and spiritual advice to the Commissioners. He has also served as an Elder adviser for the B.C. Assembly of First Nations, Parks Canada, Assembly of First Nations National Elders Council, Tso-tum-le-lum Society Treatment Centre and the Intertribal Health Authority. Currently he is working as an elder at Vancouver Island University and affiliated with UBC and University of Victoria in an advisory capacity. In November 2017, he received an Honorary Doctorate in Laws from the University of Victoria for his lifelong work in the helping field.
Levinia Brown
Levinia Brown was born in Dawson Inlet – just south of Whale Cove, in 1947. At a time when there were no nurses, doctors, or government services in that area, she was delivered by her father.
After completing her early education at schools in Chesterfield Inlet and Churchill, Manitoba, Ms. Brown became the first teaching aid in Rankin Inlet. A graduate of St. Anthony Hospital in La Pas, Manitoba, Ms. Brown has worked as a Certified Nursing Assistant in the Northwest Territories, British Columbia, and Alberta.
In 1978, Levinia Brown received her certification as a Northwest Territories Classroom Assistant and was instrumental in establishing an eastern board program (EATEP) in Iqaluit, and in 1980 she became the first chairperson of the Keewatin Regional Education Authority.
After serving as an information officer, chairperson of the local housing authority, and deputy mayor, Levinia Brown became the first woman mayor of Rankin Inlet. Establishing working relationships between government agencies and community governments was a high priority during her term.
A successful career in municipal politics provided a natural step to territorial politics for Ms. Brown.
Elected Member for Rankin Inlet South/Whale Cove on February 16, 2004, the Honourable Levinia Brown was selected by MLAs to sit on the Executive Council. On March 9, 2004, PremierPaul Okalik named Ms. Brown Deputy Premier.
The Honourable Levinia Brown is a role model and leader for Nunavut's youth. Dedicating her life to the development and promotion of community capacity building for health and social services, she projects a positive outlook on life. Her belief that life is a precious opportunity that should not be wasted is clearly expressed in her thirst for education, strength in leadership, and compassion for social issues.
Levinia Brown is married to Ron Brown. Together, they have 7 children and 3 custom adopted children.
Wednesday, August 12, 2020 – Youth Perspectives on Reconciliation
12:00 p.m. – 1:30 p.m. (CST)
Panel: Marshall Morrisseau , Aisinai'pi June and Jenna Robar
Join us for International Youth Day as we examine what the Calls to Action mean to Indigenous Youth in Canada. This discussion will examine the role Indigenous youth can take in advancing the Calls to Action and principles of UNDRIP, and how the next generation of Survivors envision a Reconciled Canada.
Marshall Jack Morrisseau – He/him/they/them- 23 – Brandon, Manitoba
Tansi my name is Marshall Morrisseau. I am First Nations, Cree, Metis and currently reside in Brandon Manitoba. I attend University here studying my undergraduate degree for the purpose of pursuing law. I am involved with a community organization Brandon Bear Clan Patrol where I coordinate the youth patrol. This opportunity lets me build positive relationships in the community, educate future generations about harm reduction philosophies and traditional teachings. The most fulfilling aspect of my role is helping those in need and meeting folks where they are at. I also take part in the We Matter Campaign as a National Ambassador of Hope, delivering messages of hope, culture and strength. My biggest goal in life is to help all my relations in a meaningful way and ensure that the next seven generations are agents of culture and traditional worldviews.
Aisinai'pi June is Kainai and Blackfoot from Alberta region, she is a new Ambassador this year! She was a part of CRE Reconciliation Initiative so she is knowledgeable in this area, and passionate about it as well.
Jenna Robar is a young L'nu/Mi'kmaw woman from Unama'ki (Cape Breton), Nova Scotia. She is a leader and change-maker in her communities, both in Nova Scotia and in Toronto. Jenna has spent many years of her life volunteering for community events, local organizations, and working closely with levels of government for the justice and equality of her people.Before joining the We Matter 'Ambassadors of Hope' team, she's started working with Newcomer youth at Canadian YMCA locations, doing sessions and workshops on 'Indigenous Life and Culture in Canada'. Jenna has worked with the United Nations Association of Canada, gone into schools with the Truth and Reconciliation Commission of Canada to talk to students about the Calls to Action and the United Nations Declaration on the Rights of Indigenous Peoples.
Jenna is also a drummer in an all-women's drumming circle (called Ogichidaa Kwe, or 'Warrior Women') and as a speaker, she travels quite often and passionately speaks to youth around the country. Jenna is currently working on projects both in Toronto and in Nova Scotia to unite Newcomer youth and Indigenous youth to improve their experiences as vulnerable groups- keeping mental health and wellness as a focus.
It is a goal of Jenna's to uplift Indigenous youth around the country and bring overall wellness into focus.
"I am so passionate about sharing why Indigenous life and culture in Canada is so important, valuable, and essential. We can do better for our youth and we have to do more. I love speaking to young people in schools and communities to remind these youth just how much we have inside of ourselves and how worthy we are."
Wednesday Oct 7, 2020 – Practicing Active Allyship in the TRC's Calls to Action
A virtual learning event focusing on meaningful allyship in response to the Truth and Reconciliation Commission's Calls to Action.
Note: This webcast will also be available in French.
The National Centre for Truth and Reconciliation (NCTR) invites you to join us for this national learning webcast Wednesday, October 7th at 10:00 a.m. – 12:00 p.m. CST (11:00 a.m. EST, 8:00 a.m. PT)
Speakers will share perspectives on future actions to build trust (to decolonize programs, policies, and services in non-Indigenous spaces), strengthen our relationships and partnerships that are necessary to advance Reconciliation and support economic prosperity, and lead to better health outcomes for Indigenous Peoples.
The overall objective of the learning webcast is to:
Increase cultural awareness, knowledge and understanding of the ongoing tragic legacy of Residential Schools, and the TRC's Calls to Action – a roadmap set out for Canada by the TRC to achieve Reconciliation with Indigenous Peoples in Canada.
Learn how to practice allyship, with practical, tangible examples of what you can do, to address the TRC's Calls to Action, including how to help overcome barriers including racism, for Indigenous Peoples.
Gain knowledge of what future actions we can take both in our personal and professional lives to build trust (to decolonize our programs, policies, and services), strengthen our relationships and partnerships that are necessary to advance Reconciliation and support economic prosperity, and lead to better health outcomes for Indigenous Peoples.
Hosted by:
Kevin Lamoureux, [Ojibway], educator, The University of Winnipeg
Speakers:
Kelly Fran Davis is Haudenosaunee from the Grand River territory. Indigenous Consultant, Curriculum/ Program Development, and educator at Wilfrid Laurier University.
Sherri Chisan, [Cree], University nuhelot'įne thaiyots'į nistameyimâkanak Blue Quills (UnBQ), President
Harlan Pruden, [Cree/nēhiyaw], educator, British Columbia Center for Disease Control's Chee Mamuk, and Managing Editor of the TwoSpiritJournal.com
NCTR's spirit name – bezhig miigwan, meaning "one feather".
Bezhig miigwan calls upon us to see each Survivor coming to the NCTR as a single eagle feather and to show those Survivors the same respect and attention an eagle feather deserves. It also teaches we are all in this together — we are all one, connected, and it is vital to work together to achieve reconciliation.