Art that sparks activism: New exhibitions at CMHR
Winnipeg, MB April 29, 2021 – Powerful works of art that have inspired action for human rights around the world are featured in two exhibitions opening tomorrow (April 30) at the Canadian Museum for Human Rights (CMHR).
Faces of captured Yazidi women, preserved in paper-mâché, dangle from the bars of a steel cage. On a forensic examiner's rack, 8,372 Bosnian fildžani (tiny coffee cups) are arranged in trays. Golden "trophy" ears from Indonesia are set beneath a soundscape of whispers and forbidden songs. Hundreds of objects from Indian residential schools in Canada rest in a cedar frame, forming a "blanket" of truth and memory.
"These artists have taken action, through their work, for a world that respects the rights and dignity of all people," said CMHR CEO Isha Khan. "Their 'artivism' helps us understand that we all have a role in recognizing and preventing mass violence and genocide. Sometimes, art is the only way these important messages can reverberate and prevail, especially at times when dissenting voices are silenced."
The North American premiere of Artivism presents works by artists and art collectives from Argentina, Bosnia and Herzegovina, Indonesia, Iraqi Kurdistan and South Africa, along with art and sacred objects from Canada's National Centre for Truth and Reconciliation at the University of Manitoba. The exhibition – shown only once before at the prestigious Venice Biennale in 2019 – encourages visitors to confront the reality of past atrocities and commit to undertaking actions that create change in their own communities.
Witness Blanket: Preserving a Legacy is the first public display of this monumental Canadian artwork since the Museum and artist Carey Newman forged a unique and historic agreement in 2019 to become its mutual caretakers. Visitors will be introduced to the special conservation needs of this challenging installation, made of more than 800 objects that hold the Stories of residential school survivors from across the country.
Artivism was developed by the Auschwitz Institute for the Prevention of Genocide and Mass Atrocities, curated by Kerry Whigham, Francesca Giubilei and Luca Berta. It includes a "60/60/60 Challenge," created in collaboration with the National Center for Civil and Human Rights in Atlanta, Georgia. The challenge urges visitors to take specific actions for human rights (outlined on an array of cards) – whether they have 60 seconds, 60 hours or 60 days to devote. The exhibition is generously supported by the Burns Family Foundation and Canada Life.
The Witness Blanket is a work of national importance created by Kwakwaka'wakw and Coast Salish artist Carey Newman (Hayalthkin'geme), a master carver based in Victoria. The 12-metre-long artwork, embedded with objects retrieved from the sites and survivors of every Indian Residential School in Canada, has become a framework for conversations about the genocide of Indigenous peoples in Canada. Its current exhibition has been generously supported with major funding by lead partner TD Ready Commitment, with additional support from The Winnipeg Foundation.
For more informaiton on the whole exhibit visit CMHR
About Artivism
About Artivism
Art creates space for conversations, including things that are difficult to discuss. Art evokes powerful emotions, transcending borders, cultures and languages to help us connect with each other. Artivism highlights the work of six artists and art collectives (see exhibition film) who have used art as an instrument of activism in response to genocide and mass violence.
The NCTR
During the hearings of the Truth and Reconciliation Commission of Canada (TRC), thousands of personal items were placed into the Bentwood Box as expressions of perseverance, reconciliation and hope for the future. Each is animated with the spirit of the giver. In accepting these items as forms of testimony, the TRC recognized that Indigenous knowledge and experience are embodied in many things.
The sacred objects, images and artworks included in this section of Artivism were among these contributions. They not only testify to genocide, trauma and survival, but also serve to preserve and promote Indigenous cultures that residential schools sought to destroy.
The central piece by Cree artist Linda Young of Saskatoon represents an empty baby swing (wêwêpison), strung from a birch tree. The swing is affixed with dozens of tobacco pouches containing the shredded remains of the 83-page story she presented as a residential school survivor during official hearings.
About Witness Blanket: Preserving a Legacy
"One of the great powers of art is its ability to access something beyond our minds, to reach into our hearts and make us feel something." — Carey Newman (Hayalthkin'geme)
Conserving this important artwork is not a matter of ensuring it lasts in perpetuity. What's more important is to honour the spirit of each object, voice and community represented in the artwork – guided by a unique stewardship agreement that gives equal weight to Indigenous traditions and Western law. That means some items will naturally deteriorate, like a moss-covered child's shoe from a school site in the Yukon, or the braids cut from the hair of the artist's sister.
This exhibition not only presents the visually stunning Witness Blanket, but also displays the Grizzly Bear Bentwood Box carved by Newman to hold the historic agreement when it was animated through ceremony in 2019 at Kumugwe, the K'ómoks First Nation Bighouse on Vancouver Island. It was the first time in Canadian history that a federal Crown Corporation ratified a legally binding contract through Indigenous tradition. Recognizing that that no-one can "own" this extraordinary artwork, the agreement instead acknowledges the Witness Blanket as having its own rights, and tasks the Museum and artist with mutual responsibility for its care.
Visitors will also learn about the role and tasks of Museum conservators and see the tools they use in their work. Using an iOS mobile app, visitors can also learn the story behind each item in the Blanket through an interactive experience.
"For me, the Witness Blanket has always been about telling the truth about this genocide and about recording that truth," said Newman, whose father was a residential school survivor. "I hope people who see it will get a sense of that collective truth that is held by all of those pieces and all of the Stories."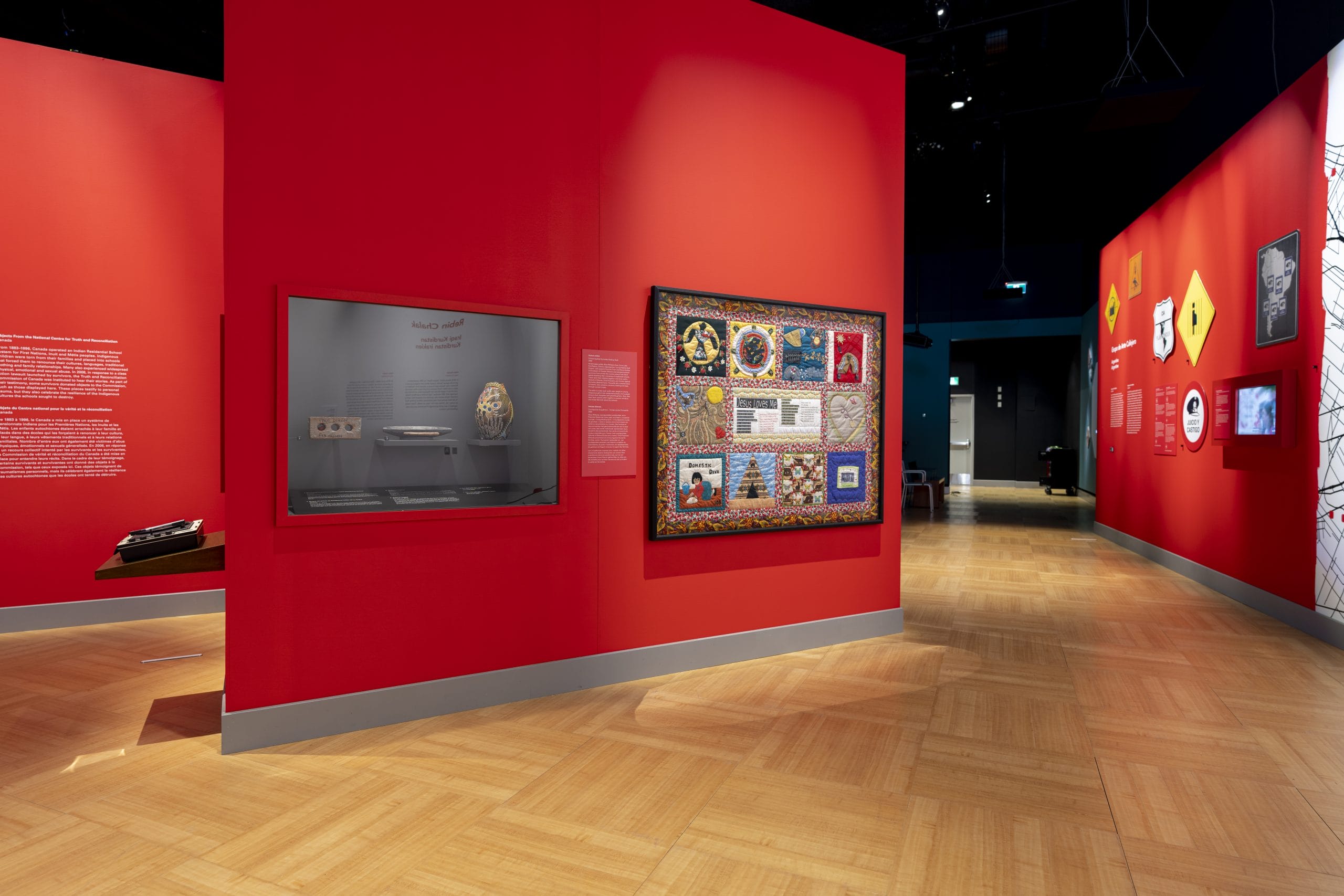 NCTR's spirit name – bezhig miigwan, meaning "one feather".
Bezhig miigwan calls upon us to see each Survivor coming to the NCTR as a single eagle feather and to show those Survivors the same respect and attention an eagle feather deserves. It also teaches we are all in this together — we are all one, connected, and it is vital to work together to achieve reconciliation.