Dalhousie and NCTR Partnership
vanbuekl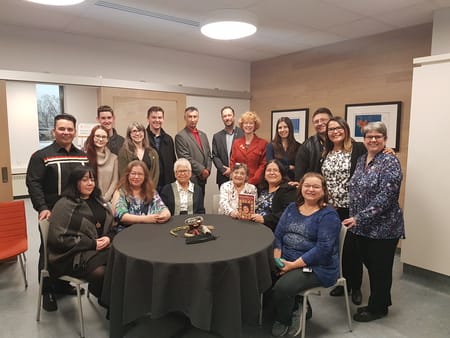 Dalhousie Launches Partnership with the National Centre for Truth & Reconciliation
The partnership will bring greater access to the NCTR archives and its programs to Atlantic Canada.
Tuesday, Feb. 5, 2019 (Truro, NS) – On Tuesday, February 5 Dalhousie officially launches a partnership with the National Centre for Truth & Reconciliation (NCTR), becoming the first east coast hub of the NCTR. This satellite location will be located in the Indigenous Community Room in the MacRae Library on the Agricultural Campus in Truro.
The NCTR opened in 2015 at the University of Manitoba — a result of the 2007 Indian Residential Schools Settlement Agreement — to be the permanent home for all statements, documents, and other materials gathered by the TRC. The NCTR was created to preserve the memory of Canada's Residential School system and legacy. Not just for a few years, but forever.
This partnership means the Dalhousie Libraries will ensure the NCTR's archives are more accessible and better used in the Atlantic region. In the future, Dalhousie will grow the service to include contributing additional holdings to the NCTR; facilitating additional oral history and community narratives, research and reports; supporting a broad scope of public education, research, cultural and reconciliation activities; assisting the NCTR in serving the public in a variety of Indigenous languages, English and French; and fulfilling regional or community needs and desires related to residential school research, education, and reconciliation.
"Dalhousie is proud to house the first NCTR location in Mi'kma'ki, the traditional and unceded territory of the Mi'kmaq. Due to the archival and research-focused aspects of the NCTR, the Dalhousie Libraries are the anchor of this partnership on behalf of Dalhousie," said Donna Bourne-Tyson, Dalhousie's University Librarian. In addition to archival and research expertise, the Dalhousie Libraries have recently hired an Indigenous Services Librarian, Morning Star Padilla, who will facilitate connections between the local Centre and the surrounding communities.
"We are thrilled to see this partnership with Dalhousie University take this significant step forward. The NCTR was founded on the vision of a network of interconnected hubs working from coast to coast to coast, keeping the fire of Reconciliation lit in this country. Dalhousie, through this Centre, is helping advance this vision," said Ry Moran, director of the NCTR.